The Planning
Scenic walk east of whatipu beach
Track: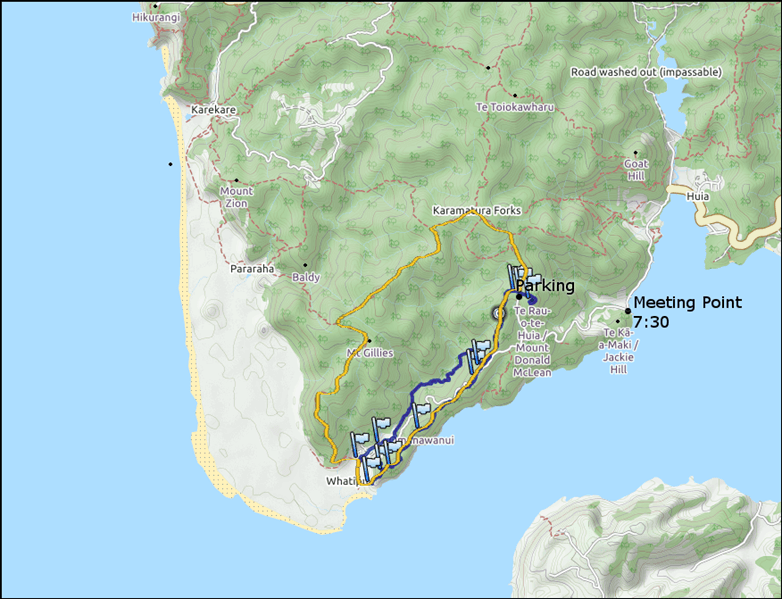 The planned track is marked in orange color. The route direction is anti-clockwise.
Meeting Point: 37°01'00.6″S 174°33'30.1″E at 7.30 AM
Start Point: -37.014417,174.538000  (end of donald mclean road)
Start time: 8.00 AM
Duration: 7 hours
Confirmed Trampers:
Chee
Kirill
Kema
Nitesh
Sujan (indefinite)
Ram
Bharat (indefinite)
---
Execution
…we discovered butt sliding point never mentioned before by anyone and renamed one track as OhMyGod track! Plus this was the highest we ever went.
Read the notes to find the history.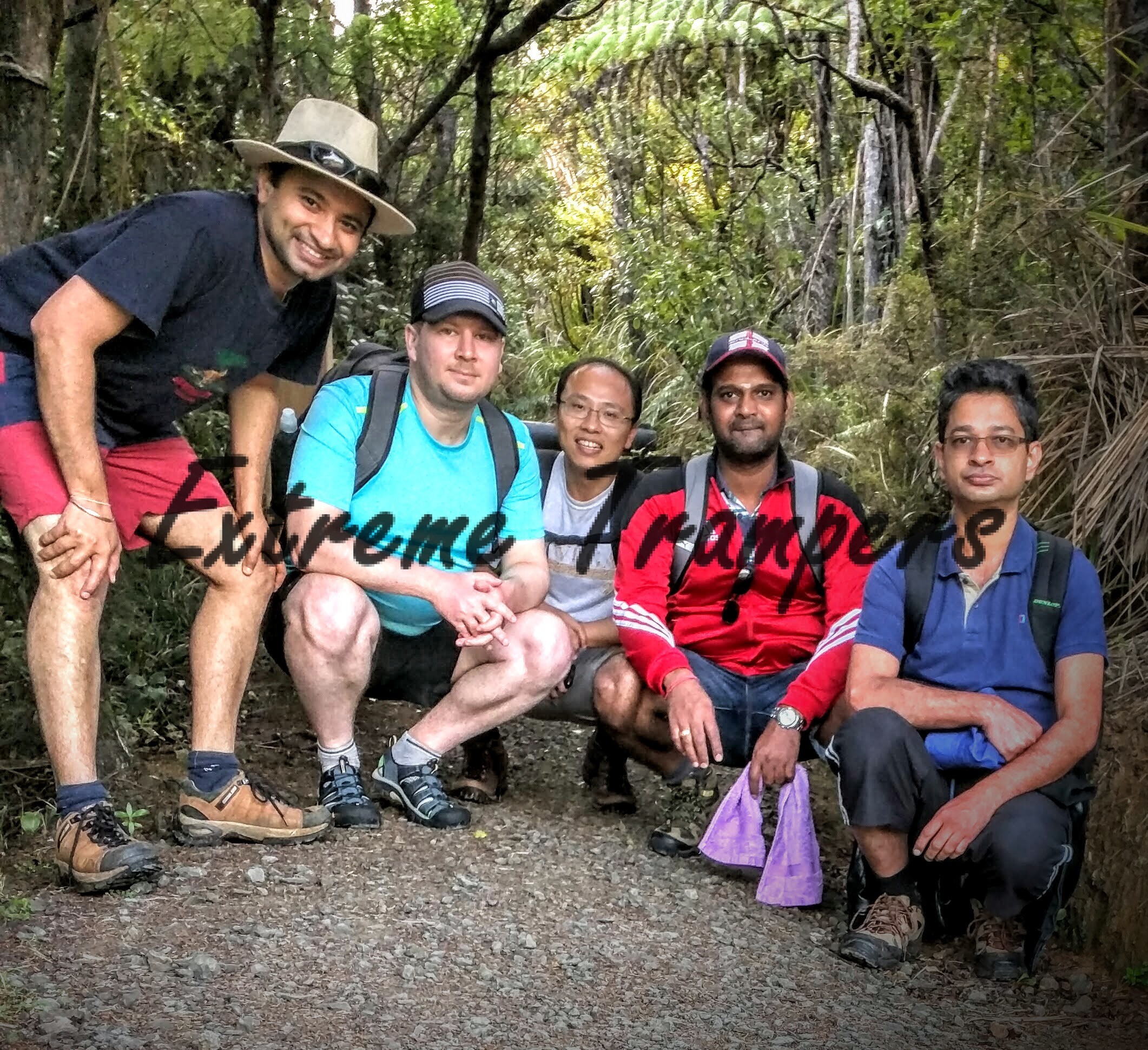 The Brave Ones:
Chee
Kirill
Kema
Nitesh
Ram
Duration: 10 hours (21 KMs)
Final Meeting Point: Subway, New Lynn
GPX – Kema:
Total distance:
21418 m
Max elevation:
448 m
Min elevation:
29 m
Total climbing:
2074 m
Total descent:
-2080 m
Total time:
10:02:05
GPX – Chee (gpx died for brief cave part):
Total distance:
22421 m
Max elevation:
444 m
Min elevation:
30 m
Total climbing:
1018 m
Total descent:
-1031 m
Total time:
10:01:49
GPX – Nitesh (gpx dies and route lost from starting point till waipu beach – all details except route marked as straight line are correct):
Total distance:
13798 m
Max elevation:
427 m
Min elevation:
0 m
Total climbing:
1238 m
Total descent:
-1282 m
Total time:
10:16:55
GPX Simulation (all in one)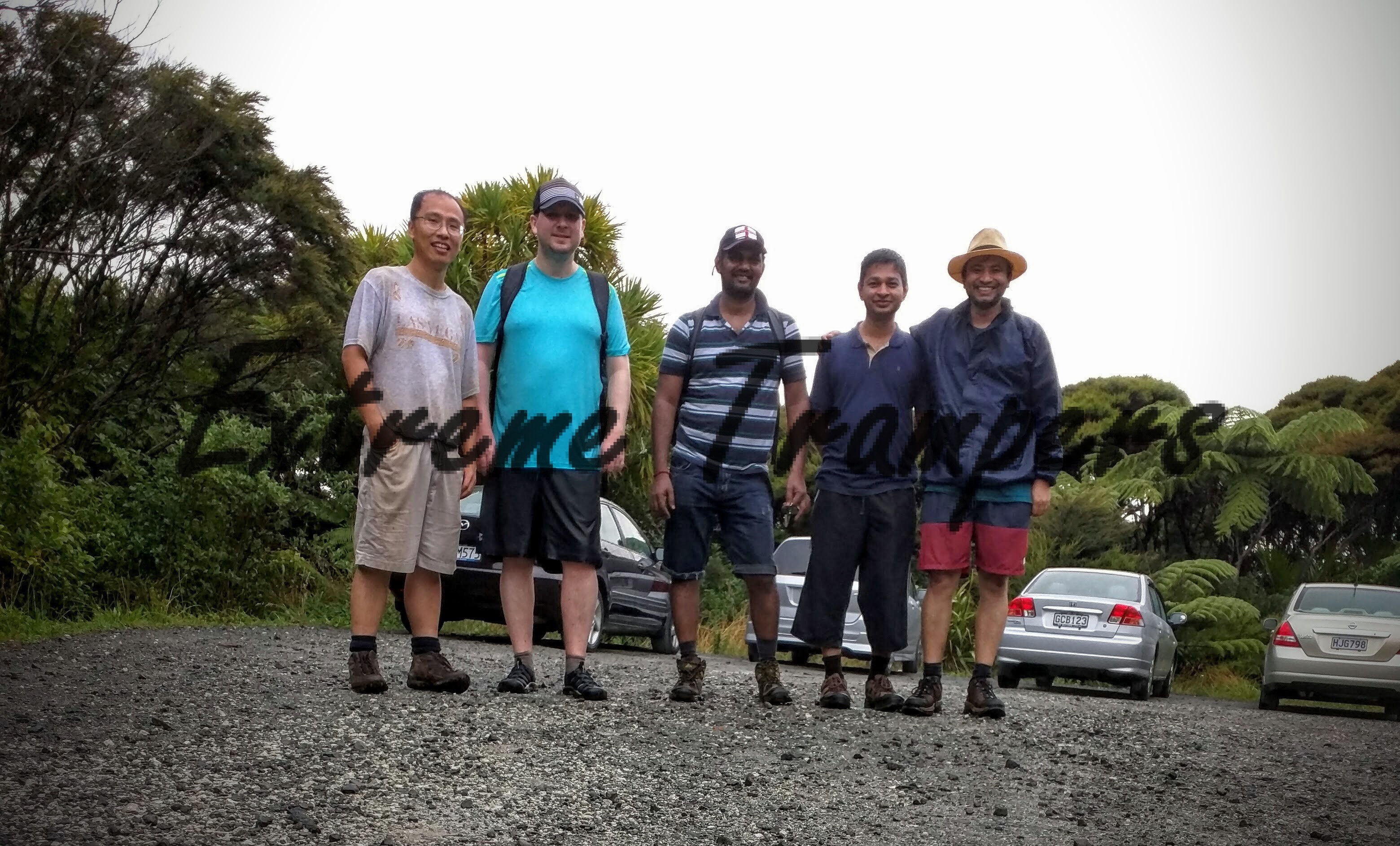 ---
Few More Details…
Route
mt donald mclean road parking > mt donald mclean track (on the right from parking which goes to the peak) > mount donald mclean track (on the left from the parking) > karamatura forks > walker ridge track > gibbons track > whatipu beach (take a dip if you like) > omanawanui track > puriri ridge track > mt donald mclean track (last few meters) > mt donald mclean road parking
Notes
Beware that many tracks are closed in this domain and it is always a good idea to confirm the availability of the tracks during planning phase.
We all met at right time at meeting point and reached at starting point on right time – kudos to our rookie tramp master, Kirill!
So to start with, we kicked off the tramp in the wrong direction perhaps because we never gave proper respect to Donald Mclean Road as it should have been Mount Donald … 🙂 But it was worth travelling those extra few meters (we were back to the parking in 15-20 minutes) to have amazing view of whole landscape we were going to cover! Take your time to digest the view, click some photos and discuss the black & white trig beacon on the top as in why is it there, what is the meaning of location codes embossed over one side, the significance of this particular shape etc. (and you are going to see another one over the course of route). The mt donald mclean peak is 389m high.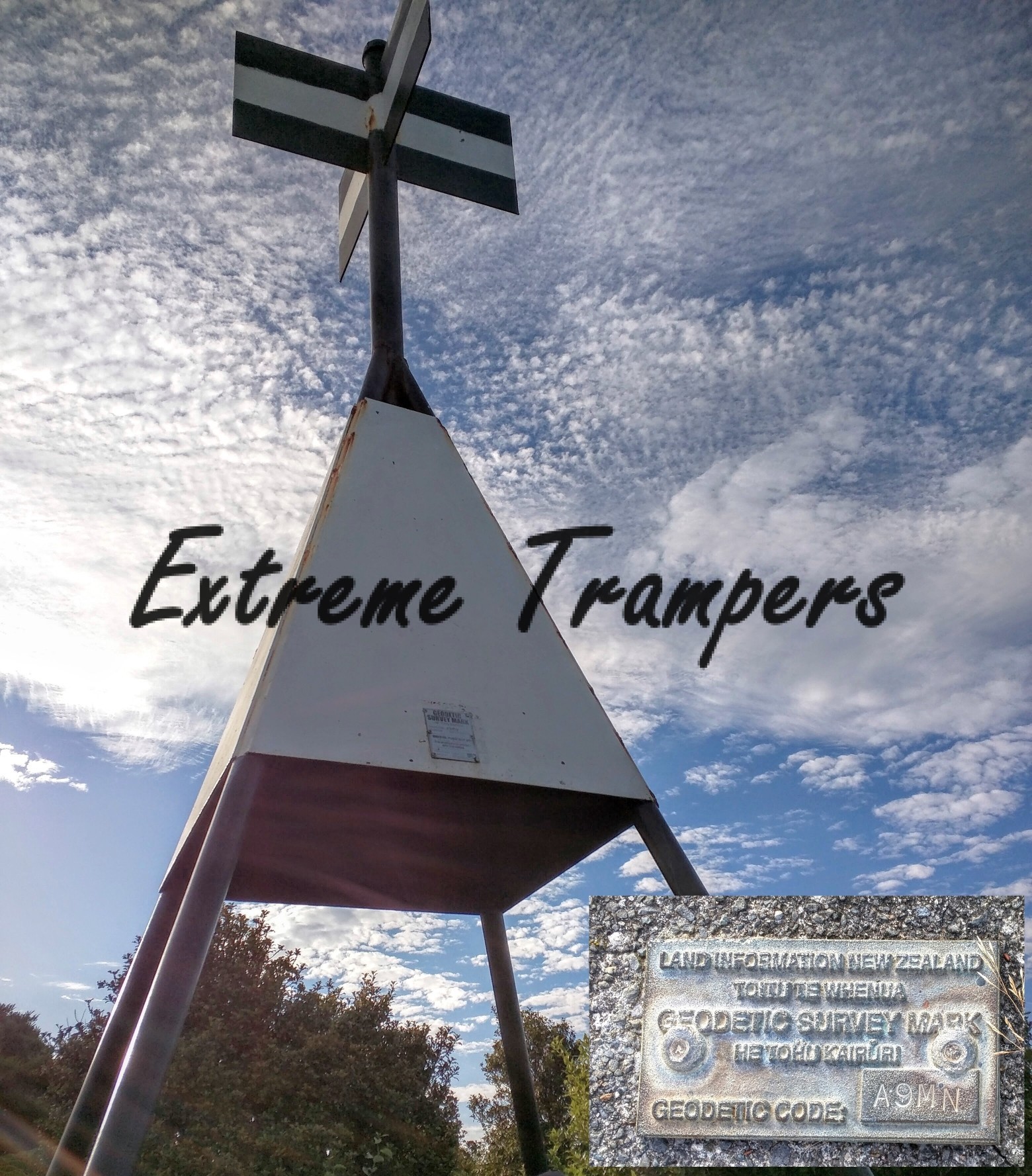 On returning to the parking, we continued on mt donald mclean track on the left and it wasn't very late when we found that there was some marathon going on and we happened to meet at least 40-45 runners on our way. Marathon was supposed to take minimum 8 hours and apparently we were moving in opposite direction to the runners. We met them twice at different locations on our way.
This part of tramp is quite easy with few climbs and normally quite enjoyable when you are in a group. There are awesome views of the beach, sea and landscapes at different points.

At normal speed (our average speed was 2.4 kmph) it takes less than an hour to reach karamatura forks from where we got on to walker ridge track towards our left. In another 90-100 minutes, we joined the gibbons track on left – again easy one with many beautiful lookouts. We didn't come any stream all this way – shows the level of heat this summer! In another 110-120 minutes, we were at the end of gibbons track. In total it took us about 4 hours and the difficult level was no more than 2.
At this point, you have 2 options – to continue on omanawanui track on left or to enjoy the whatipu scientific reserve, caves, beach etc. Given our tramping ideology, we all already knew what we were going to do. So we took the track on our right which went straight into scientific reserve towards caves.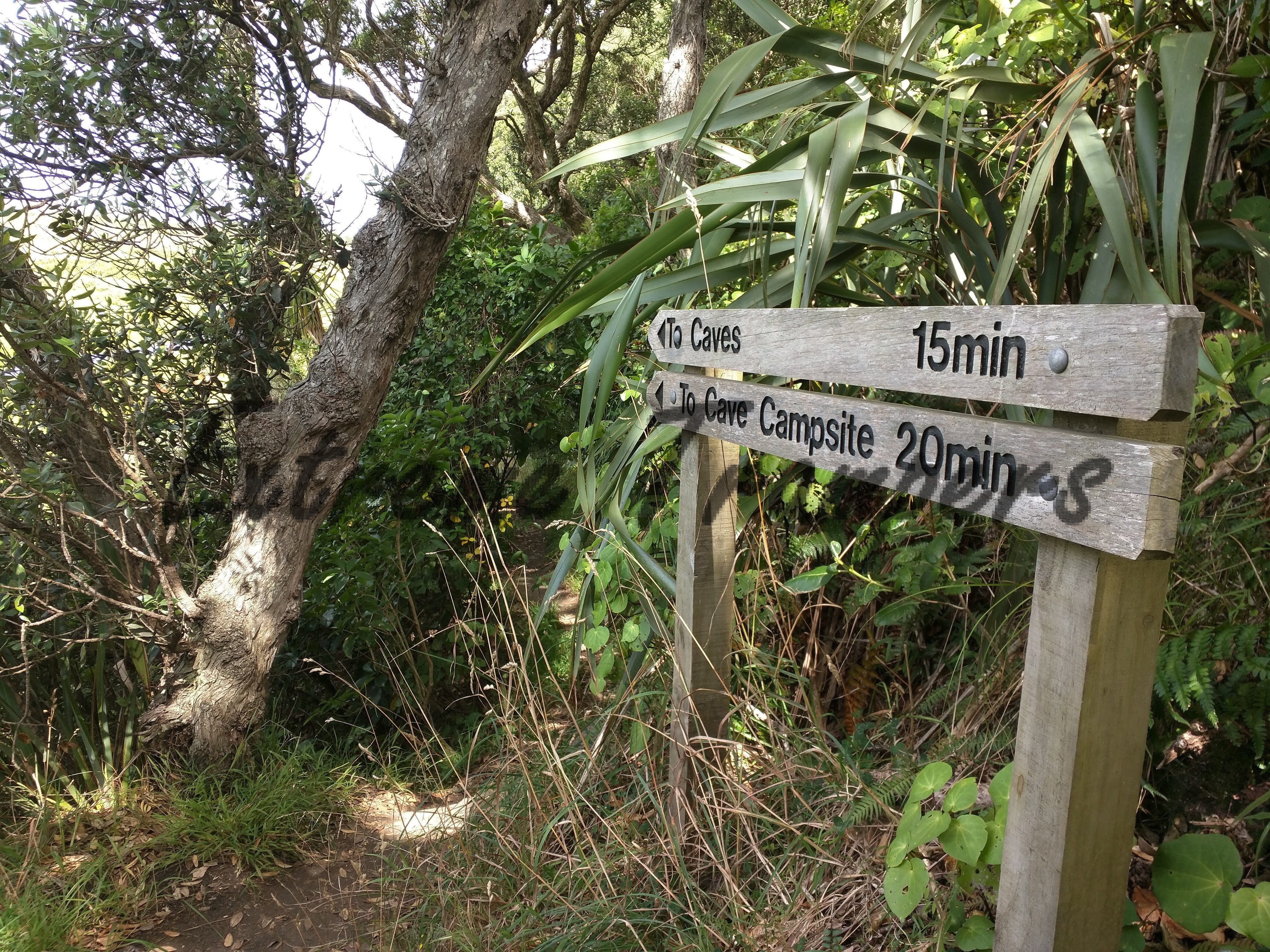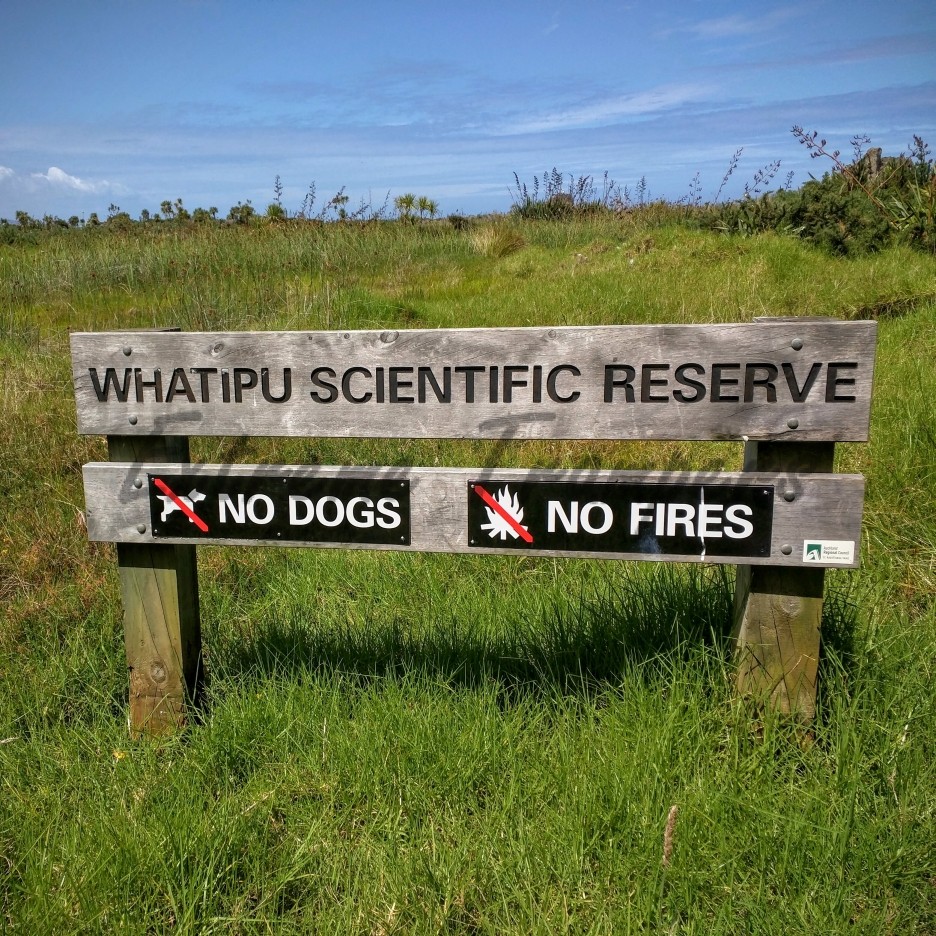 We enjoyed few berries on our way – you will find many berry plants on your way till here.
First cave was pretty big and thanks to Chee, from his previous night tramp memories, he knew that there are ways to go further inside the caves after crossing the narrow entrances. Nitesh  and then Kema were first ones to enter and once they confirmed the safety as well as possibility of scope to explore the caves further, it was enough to motivate the rest of us. So there we were – 4 of us exploring the caves (at the loss of fifth one), moving forward to find the end of the cave. At the end we had to halt our navigation due to very small rocky entrance from which only a very thin kid / guy could enter not fat blokes like us. We wondered if such thin people were actually interested to walk all this way and explore these caves.
Following Chee's idea, we (at least we think) managed to spot few glow worms in the cave in total darkness. We are still trying to believe that we managed to spot glowworms in that wild.
We went on to next two caves but couldn't go very far inside them. One cave which appeared to be biggest was marked as extreme danger due to falling rocks. There was narrow entrance to go inside but after entering and spotting few big rocks fallen from top, it was advised not to take the risk.
This was a good spot for another group photo of extreme diggers…err trampers!
Then we walked back towards omanawanui track which led us to sweet spot for lunch and sleeping.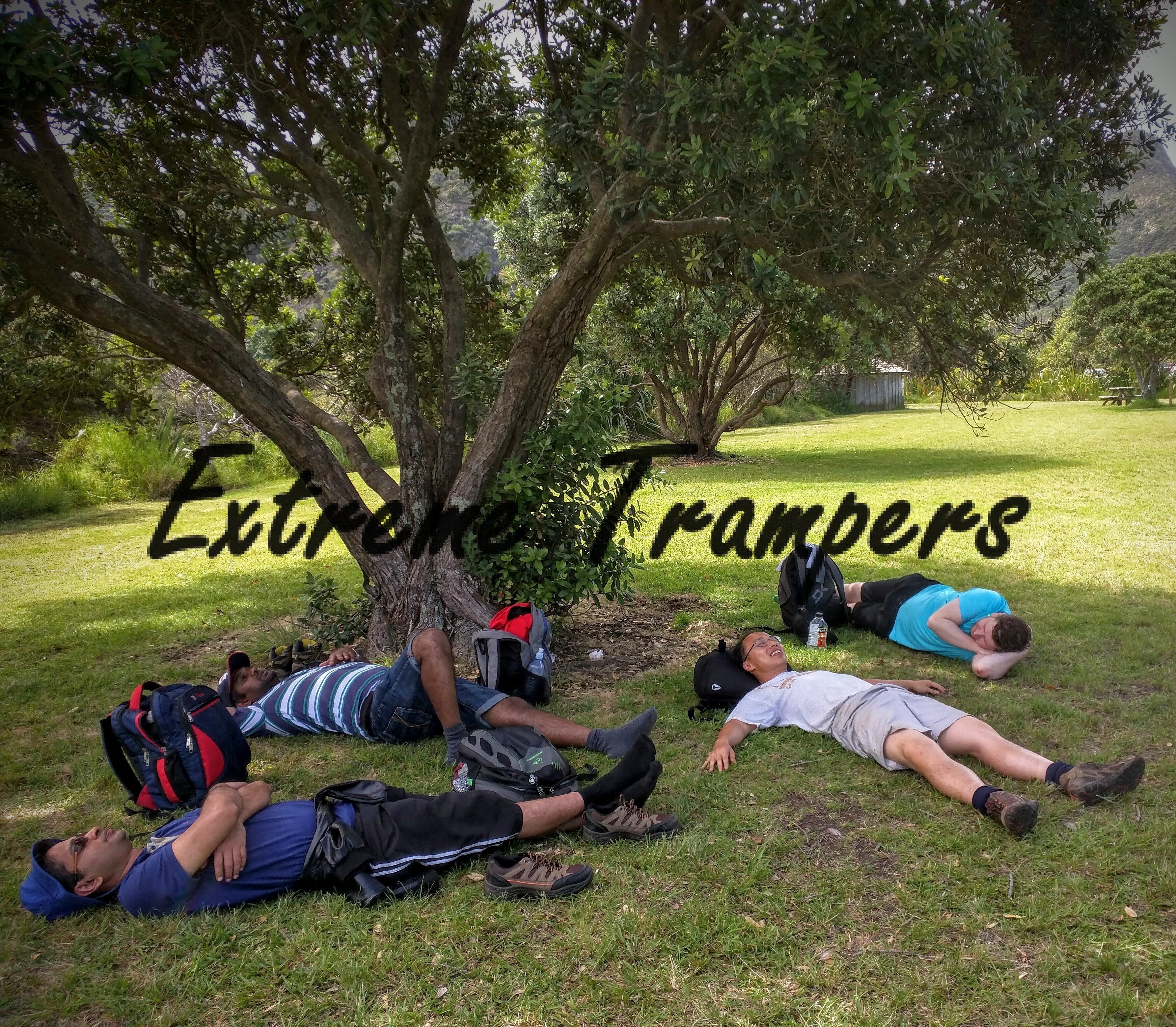 After having good rest, we headed towards the beach…our last fun spot (of which we weren't aware yet). We took our time to enjoy the beach, jumped into sea, high wave had just begun and therefore, we didn't need go far inside and had it coming towards us.
Having spent about two and half hours in all these fun activities, we started on our way back on to omanawanui track which we would rather name as OhMyGod track. It was steep climb to start with and there was a point where there was no track and just the rocks. You had to step carefully over this vertical rocky surface and brought back scary memories of mercer bay tramp. Despite being a managed track, we wondered why this part wasn't maintained so well. If any one had slipped / fallen, they had landed with their butt over thorny plants / weeds…and hence the butt sliding point! So that was first peak and then we walked some distance downhill before heading on to second climb.
Second hill was equally difficult but here we found some chains to assist over rocky surfaces. Plus this one had the best 360 degree view we witnessed during our whole tramp. Also there is a bench to sit on and enjoy the awe-inspiring view covered with sea from 3 sides.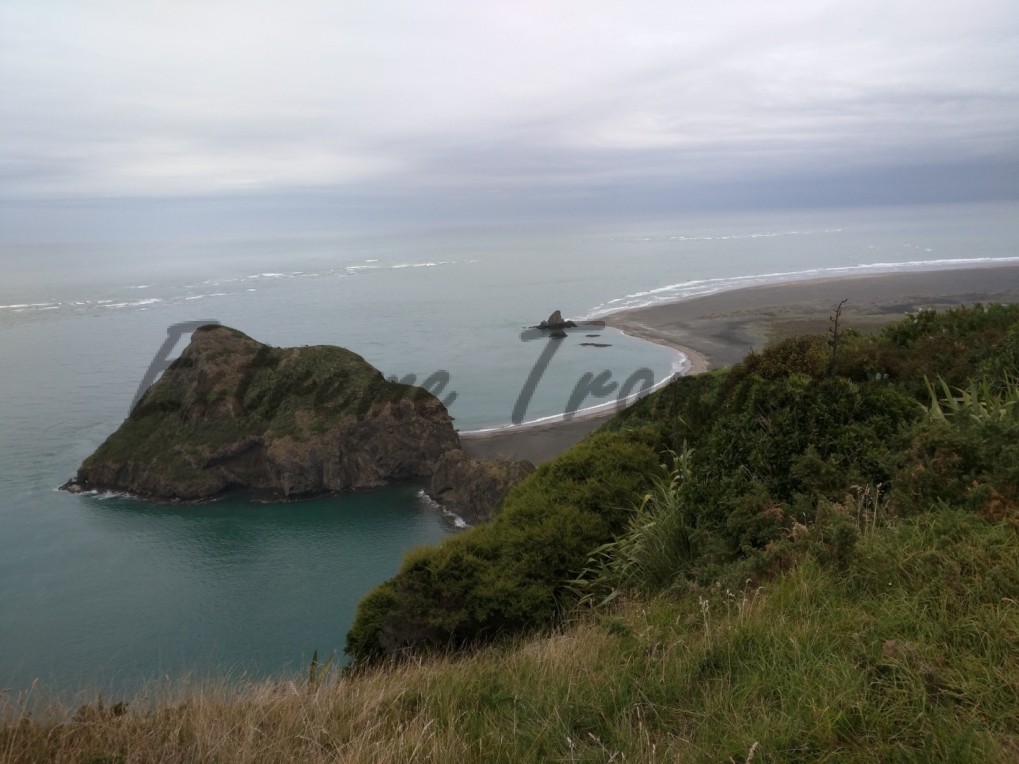 Then it was the time to climb the third hill which we found the toughest amongst all. It was pretty steep and by the time we reached, it was 4 PM and as predicted by met, it started raining. It was on this hill, we found second black & white trig beacon of our tramp which in fact, saved us from rain while we caught on our breath after heavy climbing. This one is 241m high from sea level.
Rest two were little easier to climb as compared to this one although we had to be extra cautious due to continuous raining. Thankfully we all were well prepared for the rain and didn't feel much troubled.
While continuing on omanawanui aka OhMyGod track, we touched the whatipu road after coming down from third hill and before starting on fifth one, we crossed the whatipu road. Just after crossing the whatipu road, we joined puriri ridge track which we followed till the end where it merged into mt donald mclean track and that took us to the parking lot. This journey from beach was covered in little less than 4 hours. Once again we didn't encounter any stream on our way. In all this, Ram had been playing his sneaky tricks which included controlling the rain 🙂
The total tramp time was 10 hours and we almost touched maximum elevation of 400m which was first for us.
By now we all were convinced that this one was no less than 4 if not 5 especially when at times, it flashed back the memories of mercer bay.
And on the ending note, we happened to cover complete mt donald mclean track even if it was part of an initial mistake!
PS: In case you were still wondering about black & white trig beacon and don't want to be in suspense, you may want to visit this linz (Land Information New Zealand) page to read more about them.
The first beacon at end of mt donald mclean track was A9MN and one found over omanawanui track was A9RC (explore more here).